Discover Penyagolosa by running
Publishing date 3/03/2014
The Training Camp Penyagolosa Trails CSP115 will be held this weekend. A date for training, information and sports in order to discover the CSP115 trail and acquire the required knowledge for a mountain race of these dimensions.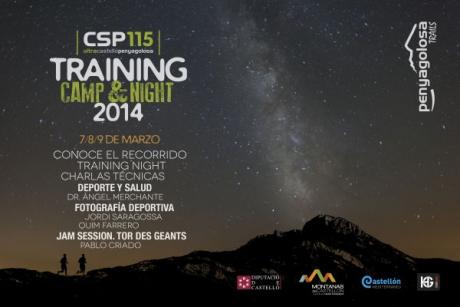 On March 7, 8 and 9, the 2014 edition of the Training Camp Penyagolosa Trails CSP 115 will be held in Castellón Once again, this test is the Ultratrail FEDME Spanish Championship and a scoring competition in the Spain Ultra Cup.

The main new feature this year is that the training weekend begins on Friday 7, with a nighttime exit from Atzeneta del Maestrat. The sessions will continue until Saturday 8, with an exit through the districts of Benafigos, Culla and Vistabella, ending on Sunday 9 with a training session from Vistabella to Sant Joan de Penyagolosa.

As a second new feature for 2014, Training Camp Penyagolosa Trails CSP115 will also include the participation of photographers Jordi Saragossa and Quim Farrero, two of the foremost mountain racing photographers. In the field of medicine, Doctor Angel Merchante Alfaro, a specialist in Endocrinology and Nutrition in Hospital General Universitario de Valencia and a mountain runner himself will offer a talk on Doping and ergogenic aids for mountain runners. Finally, a Jam Session Tor Des Geants has been prepared by runner Pablo Criado, to be held on Saturday.

There are a number of options available for participants. The first is to participate throughout the entire weekend. This complete option includes meals, trips, supplies, hard soil, a commemorative gift and insurance. The price is 48 euros for all three days. This does not include breakfast or lodgings, beyond the shared ground spaces, with 50 spaces available.

For those who cannot attend the entire weekend, it is possible to participate on separate days, paying for the meals separately. In this case, the price is 15 euros per meal.

When it comes to different levels, all training sessions will have 3 groups depending on their rhythm, 6, 9 and 12 km/h. All talks are free. Furthermore, beyond the ground space provided by the organization, there is also a large variety of offers of rural lodgings available at: http://www.penyagolosatrails.com/info-turistica/alojamiento/, Atzeneta del Maestrat on Friday night and Vistabella del Maestrat on Saturday.