February is Carnival time in the Comunitat Valenciana!
Publishing date 4/02/2013
Every year in February, many towns in Castellón, Valencia and Alicante put on their Carnival costumes and get ready to party in a festival that's all about fun, community spirit and having a great time. Many towns get all dressed up to break with everyday routine and celebrate this popular festival. Pick your destination, get your fancy dress ready and see our Carnival time for yourself!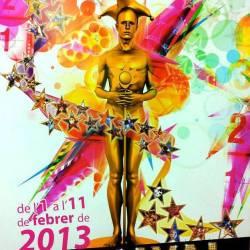 Carnival dates vary from year to year, depending on when Easter Week is due to fall  and always before the Christian period of Lent. Festivities include wearing fancy dress costumes, dancing and street parades. In the Comunitat Valenciana there are several towns where Carnival is a major event, such as Vinarós, Pego, Requena, Segorbe and Valencia, providing a host of options for enjoying this February festival.
The Vinaròs Carnival is one of the longest-running Carnival events in the Comunitat Valenciana. Although it was banned during the Franco regime, Carnival made a comeback in 1983 and new elements were added to the festival.
In 2013 the town celebrated the 31st anniversary of its Carnival, which is being held this year from 1 to 11 February.
At Carnival time, Vinaròs holds a variety of festival events, including the arrival of His Majesty Carnestoltes, the inauguration of the Carnival site, the Presentation of the Queens, the Great Flour Battle, the Confetti Battle, the Final Judgement of His Majesty Carnestoltes and the Burial of the Sardine, plus countless parades, dinners, open-air dances, firework displays and lots more.
The Pego Carnival is one of the most famous in the Comunitat Valenciana and the most popular festival in this town in the province of Alicante. At Carnival time, Pego is completely transformed and everyone spills out on the streets for a big party full of laughter, colour and music.
The 2013 Pego Carnival is due to be held from 9 to 13 February, attracting people from nearby towns and the surrounding area into Pego for a festival where everyone gets the chance to dress up and have fun.
Other towns in the Comunitat Valenciana with their own distinctive versions of Carnival are Segorbe, Requena, Villar del Arzobispo, Rafelbuñol and Torrevieja.
Choose your costume and visit one of these destinations, it's Carnival time in the Comunitat Valenciana!