ElectroSplash is back to Vinaròs
Publishing date 29/06/2016
This summer, the town of Vinaròs will be again one of the epicenters of electronic music thanks to the third edition of the renewed ElectroSplash festival that as innovation includes in addition the sounds more indietrónicos. Over 80 artists distributed on three stages along the 08th, 09th and 10th of July will make the assistants dance during this good, nice and cheap event. Besides music, the event has the incentive of being held by the sea. Take the towel and come around, because this is your party!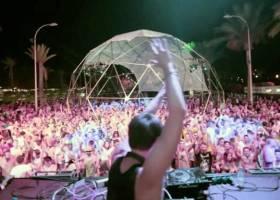 You still don't have your ticket for the cooler & fresher electronic festival in the Mediterranean? Âme, Fort Romeau, Hunee, Radio Slave, Helena Hauff o Dorian, WAS, Meneo y Polock and many other artists are waiting for you in the ElectroSplash festival in Vinaròs!

ElectroSplash is aimed at the alternative art scene, music and entertainment: a festival dedicated to advanced music, avant-garde art and contemporary culture. If you like being in the beach in the sun or shade, enjoying smiling faces, bathing in the sea, eating fresh fruit, dancing with great music or watching your favorite DJs playing in shorts, Vinaròs is your destination from July 08 to 10 .

It is an original and fun event, fill completely of activities beyond the music, in a natural exceptional intonation during the day and with a cool concept, both elegant and underground at the same time.

The Fora Forat Beach is ready to welcome thousands of Splashers wanting to have fun. Ahead, more than 80 artists, 3 stages and a new edition of the cooler summer festival.

Come to Vinaròs and enjoy the best electronic music close to the sea!