Come and enjoy beaches and gastronomy in Vinaròs!
Publishing date 8/07/2013
Vinaròs is a Mediterranean town with a set of special features that make it very different to other seaside towns. At this time of year, we invite you to visit this destination, where you can make the most of its spectacular beaches with crystal clear seas... come and see for yourself!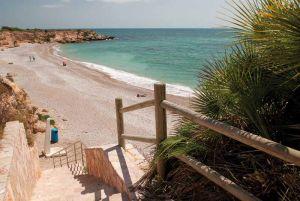 This week, we invite you to come and explore Vinaròs, a destination on the northern coast of Castellón, where you'll find pretty coves with rocky cliffs and huge sandy beaches. Vinaròs offers you the chance to enjoy seaside, leisure and fine food, especially the famous locally caught Vinaròs king prawns.
If you visit the town in July you'll be able to take part in the Tapa Tour and the Cuina del Llagostí event and try some of the exquisite dishes on offer. During the event, which will be running until 28 July, various restaurants in Vinaròs will be combining their more traditional dishes, such as king prawns "al natural", with other more innovative menu items including king prawns with spicy mango or king prawn crepes.
Make the most of your time at the event for getting to know Vinaròs town, enjoying its various beaches, practising water sports, finding out about its history, hiking, going shopping in the old quarter and, of course, savouring its excellent range of food and drink, especially the Vinaròs king prawns!
More information:
TOURIST INFO VINARÒS
Paseo Colón s/n 
Vinaròs (Castellón)
Tel: 964453334
Web: 
http://turisme.vinaros.es
Email: 
vinaros@touristinfo.net