Villena goes back in time, between fairies and troubadours
Publishing date 2/03/2015
This weekend, fairies, troubadours, jugglers and giants invade the old district in Villena, an Arab neighborhood of narrow and beautiful streets. Come and discover how Villena goes back to medieval times and celebrates its festivals in honor of Saint Josheph.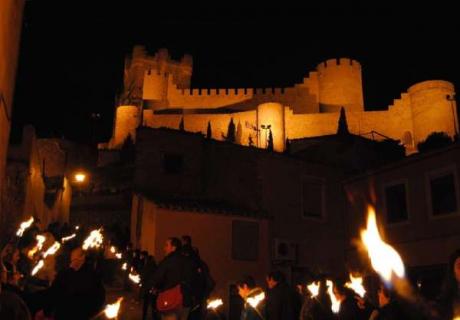 From the 6th to 8th of March, the Rabal neighborhood in Villena hosts this weekend the Feast of the Middle Ages. The Rabal is an Arab neighborhood of narrow streets and old houses, where you will find musicians, jugglers days, falconry, wizards, archers, fire eaters, chess masters, street theater and a wide range of free activities for all ages, and including most notably, for the first time, the show performed by the Official League of Medieval Combat.

Both armor and weapons that are used, mainly axes, maces and swords, are reliable reproductions of steel from the 12th, 13th and 14th centuries. They keep as well a difference of no more than 50 years between models to maintain historical accuracy. For the skeptics, we inform this is not some sort of choreography or theater play, but a real contact sport. Participants try to defeat their opponent with punches that leave audiences amazed. Combats, with the participation of some representatives of the Spanish selection of this discipline, are for couples or singles. This show takes place on Saturday, March the 7th, in the afternoon and Sunday, the 8th, in the morning. The setting could not be other than the slopes of the Atalaya Castle, a spectacular medieval fortress built between the twelfth and fifteenth centuries, which belonged to important feudal lords as Don Juan Manuel and Juan Pacheco, Marquis of Villena.

These fightings sum up to the Medieval Feasts which are increasingly becoming a true representation of the medieval world, with hundreds of people dressed in period clothes, the streets and houses conveniently decorated, historical recreations such as the visit of the Catholic Monarchs to Villena, and events such as the Medieval Weddings, where the groom, bride and guests are dresses in Middle Ages fashion.

The Medieval Market in Villena has over 160 stalls arrived from all parts of Spain. These offer a wide range of commodities, food such as the most exquisite meats, crafts, jewelry, ornaments, bijou, weapons, pottery and, of course, the traditional taverns where you feel like a real guest in the Middle Ages.

The Medieval Feast is organized by the neighbors of Rabal to promote the historic center of Villena, declared of Cultural Interest. This fact distinguishes it from any other medieval market, because the neighbors themselves dress up and decorate their homes.

Come this weekend and see how Villena was in the Middle Ages. And, if you come by train, RENFE makes you a discount of 30% off.