Villena is a fairy-tale
Publishing date 3/03/2016
If you want to enjoy the weekend in a fairy-tale place, then Villena is your perfect destination on the 11th, 12th and 13th of March, 2016. Find out more about the beautiful city of Villena, which offers history and cultural heritage all over the place and enjoy the never-ending activity of its streets. You will love it.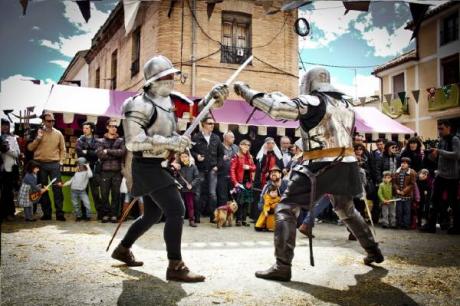 The festivities of the Middle Age take place in El Rabal: a Moorish quarter full of narrow streets and old houses, where you'll see musicians, jugglers, falconry, wizards, bowmen, fire-eaters, chess masters, theater on the streets and endless free activities for everyone. Among all these activities we could remark the arrival of the Catholic Monarchs in Villena, a representation of the visit of Queen Isabella I of Castile and Kind Ferdinand II of Aragon in Villena in 1488. Another main festivity is the medieval weddings in front of the castle, where bride, groom and guests dress up in medieval clothes and a hawk bringing the rings from the castle. This year three couples will get married during this medieval event.

The castle of Atalaya is also the perfect place for amazing medieval fights, represented by specialists of this young sport here in Spain. Of course, another magic moment will be the March of the Torches, where hundreds of people go through the streets at night following the rhythm of the drums and end with a Celtic music concert by the walls of the castle.