"Rock Legends" brings the best heavy metal and rock to Villena.
Publishing date 3/08/2015
The tenth edition of the "Rock legends" festival kicks off on 5th August in Villena with the sound of the best heavy metal and hard rock electric guitars. To commemorate the tenth anniversary, four concert days in which up to 65 groups will perform have been programmed. Come to Villena and enjoy the best rock and heavy metal festival of the moment!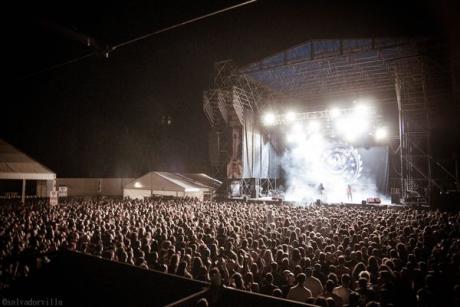 The "Rock Legends" festival kicks off this week in Villena with more than 65 shows which will offer their best live performance during the days 5th, 6th, 7th and 8th August in the Villena Municipal Sports Center. Performances which will make rock enthusiasts vibrate in the four most intense and rock days of the summer.

In its nine previous editions, "Rock Legends" has become a legendary reference festival in the whole country by including in its programming almost all groups of the Spanish rock musical world and also great myths of international music.

First line international bands like Sabaton, Within Temptation, The Darkness, Doro, Gamma Ray or Sepultura will meet together in the festival by alternating with some of the best international bands like Los Suaves, Warcry, Saratoga, Obús or Rosendo.

"Rock Legends" is thought for all kinds of public who searches having a good time to the beat of rock, has a differenced structure by days, stages and sectors and furthermore, the first day is of free and open access. The Festival has shade spaces, an Olympic swimming pool which will calm August high temperatures, a nursery for children, as well as a restaurant area where participants can feed themselves without leaving the inside of the precinct.

Come to Villena and enjoy the heaviest festival!