This spring, treat yourself to Castellón's inland gastronomy
Publishing date 29/04/2013
Gastronomy and nature is a combination awaiting you deep in the heartlands of Castellón this spring. We invite you to enjoy local dishes made with locally grown produce and washed down with wines from eleven wineries based in the province of Castellón. You're just in time to catch the II Jornadas Gastronómicas de las Carnes, Aceite y Vino, an event promoting meat, oil and wine in La Plana Alta and L'Alcalatén.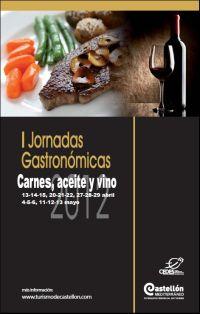 Spring brings good weather and longer days. The countryside in the interior of Castellón is ready to offer you a huge range of possibilities for having a great time in good company. If you venture into this area in the north of the Region of Valencia, you'll find excellent food and drink, plus some amazing landscapes.
Up until 12 May you have time to enjoy a vast range of gastronomy from inland areas of Castellón at the II Jornadas Gastronómicas de las Carnes, Aceite y Vino food and wine event. While the event is running, twelve towns and 42 restaurants set in the heart of the province of Castellón will be presenting a great selection of dishes and recipes that play a key role in traditional local gastronomy that's based on the three basic pillars of Mediterranean cuisine.
The II Jornadas Gastronómicas de las Carnes, Aceite y Vino will be held in the towns of Atzeneta del Maestrat, Benafigos, Benlloch, Cabanes, La Pobla Tornesa, Les Useres, Sant Joan de Moró, Serra d'en Galceran, Vall d'Alba, Vilafamés, Vistabella del Maestrat and Xodos.
As you might expect, all the food being served is washed down with some great wines from the province of Castellón, hand-picked from 11 local wineries:  Barón D'Alba, Vinya Natura, El Rosso, Señorío de Villafamés, Vicente Flors, Castillo de la Duquesa, Castells i Montoliu, Mayo García, El Mollet Vino y Cultura, Mas de Rander and Bodega Les Useres.
Visit Castellón's inland towns and enjoy your meal!
More information: