The streets of Vila-real become a theatre
Publishing date 26/04/2016
Vila-real helds from 5th to 8th of May the International Festival of Theatre de Carrer (FITCarrer) with national and international street shows.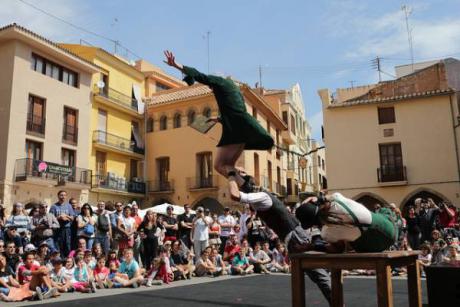 Be surprised by the traveling road show on stilts with juggling, acrobatics and stories, 'clown' show about social issues or by a show of poetry and dance. This and much more offered by the FITCarrer, the International Festival of Theatre de Carrer of Vila-real, held from 5th to 8th of May on the streets of the city of Castellon.

Companies, roundtables, meetings, conferences and, of course, lots of street performance will be the ingredients of the 29th edition of FITCarrer. Vila-real will move its streets in a grandiose stage dressed for fiction and much public. Is there a more suitable for fictionalize life and its conflicts on the streets, a place where society flows?

Talking specially about the streets of Vila-real, a dynamic city with an ever open agenda to the cultural world. Museums, exhibitions, festivals, the rich historical and religious heritage, and involved commercial network make this city a different and original destination. On the banks of Mijares, Vila-real river also offers the possibility of connecting with nature through routes and walks to 'Termet de la Mare de Deu de Gracia', one of the most emblematic places of the region.