XV Festa de la cirera. Benialí 2015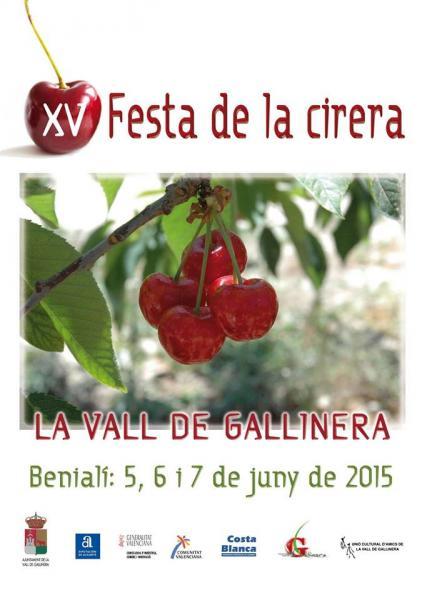 Description:
Programa de fiestas
Dates:

Starts: 05/06/2015
Ends: 07/06/2015
Divendres 5 de Juny:
21:30 h. Presentación del documental "Adéu, Amèrica", el segon de la sèrie "Del Montgó a Manhattan. Valencians a Nova York", una producció de "INFOTV" amb guió i direcció de Juli Esteve i imatge i edició de Antonio Amau i Esther Albert.
Dissabte 6 de Juny:
9:30 h. Cercavila amenitzada per la dolçaina i el tabalet que recorrerà tots els pobles de la vall.
11:00h. Pels carrers de Benialí, tindrà lloc la inauguració de la XVFirade Turisme, productes gastronómics i artesans que es podrà visitar durant el dissabte i el diumenge.
12:00h. Taller de pintura rupestre per al públic de totes les edats a càrrec de Miguel Guerrero.
13:00h. Exposició de pintura Visions de la Vall de Mari Carmen Moltó i textos de Gregorio Royo amb degustació de cireres ecològiques i licor artesà.
18:00h. Taller de torn ceràmic per a xiquets.
19:30h. Animació musical amb l'obra "La granja musical", de la companyia l'Oracle de l'Est.
22:00h. Torrà popular d'embotits en el pati de les escoles. (Reserva de tiquets en l'Ajuntament).
23:00h. Actuació de Pep "el Botifarra".
24:00h. DiscoRullMòbil. Música i festa.
Diumenge 7 de Juny:
A partir de les 09:00h. Tindrà lloc el "VII encontre de pintors a la Vall de Gallinera". Inscripció cridant al 966406553.
09:00h. Excursió al barranc de les basses del racó i pintures rupestres de Benialí guiada pels membres de la Uniò Cultural d'Amics de la Vall de Gallinera. Eixida des de l'Ajuntament.
10:30h. Taller de torn ceràmic a l'espai de la fireta.
12:00h. Presentació del llibre Al-Azraq, El visir que somiava La Muntanya a carrec de Just I. Sellés. En el Saló de Plens de l'Ajuntament.
13:00h. Es celebrarà el tradicional campionat de llançament de pinyols de cirera per a xicotets i grans.
14:00h. Menjar popular. Paella geganr al pati de l'escola (resesrva de tiquets a l'Ajuntament. Tfno.: 966406553).
17:30h. Teatre infantil amb l'obra "El bosc encantat" de la companyia l'Oracle de l'Est.
La zona d'aparcament ès limitada.
Ajuntament de Vall de Gallinera
Carretera, 35
Tlfn. 966406553 - FAX 966406566
Information compiled by:
TOURIST INFO ALICANTE
Avenida Rambla Méndez Núñez, 41 (Torre de la Generalitat),
03002 Alicante
Phone: 965200000
Fax: 965200243
Email: alicante@touristinfo.net
This office does not assume responsibility for sudden changes or variations of the events published on this site.