XIV Fiesta de la Cereza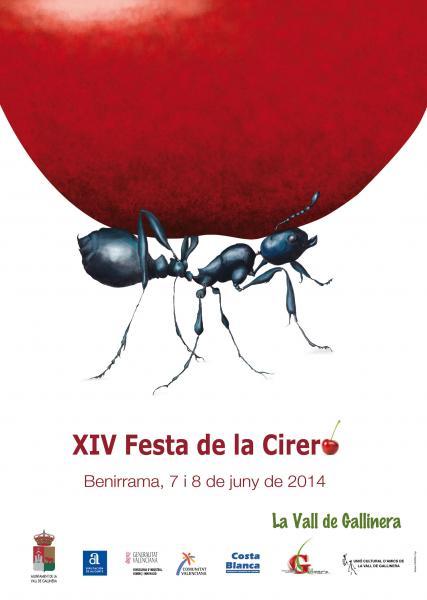 Description:
Programa de fiestas
Dates:

Starts: 07/06/2014
Ends: 08/06/2014
XIV FIESTA DE LA CEREZA
Benirrama 2014
Programación
Sábado, 7 de Junio:
A las 9:30h. pasacalle amenizado por la dulzaina y el tambor que recorrerá todos los pueblos del valle.
A las 11:00h. en la calle Mayor, tendrá lugar la inauguración de la XIV Feriade Turismo, productos gastronómicos y artesanos que se podrá visitar durante el sábado y el domingo.
A las 12:00h. taller de pintura rupestre, destinado a público de todas las edades, a cargo del experimentado pintor y reproductor Miguel Guerrero.
A las 19:00h. en la iglesia de Benirrama, tendrá lugar una conferencia del arquitecto, doctor y miembro de la Unió Cultueral d´Amics de la Vall de la Gallinera, Rafael Soler i Verdú, titulada "El paisaje cultural de la Vall de la Gallinera. Arquitectura Cero".
A las 20:00h. en la plaza de las escuelas, actuación de Pelandruska, grupo de folk y música tradicional procedente de las comarcas del Alcoià y El Comtat.
A las 22:00h. barbacoa popular de embutido en la plaza de las escuelas (venta de tickets en el Ayuntamiento).
A las 24:00h. DiscoRullMobil. Música y fiesta remember de los 80´s.
Domingo, 8 de Junio:
A partir de las 9:00h. tendrá lugar el VI encuentro de pintores de la Vall de la Gallinera.
A las 9:00, desde la plaza de las escuelas, visita a las pinturas rupestres de Benirrama guiada por la arqueóloga Virginia Barciela, de la Universidad de Alicante. Duración: 2h. Dificultad: Baja.
A las 10:30h. taller de torno cerámico.
A las 13:30h. se celebrará el tradicional campeonato de lanzamiento de hueso de la cereza para pequeños y mayores.
A las 14:00h. comida popular. Se cocinará una paella gigante en la plaza de las escuelas (venta de tickets en el Ayuntamiento)
A las 17:00h. tendrá lugar una actuación de teatro infantil titulada "Les orelles del conill"
La zona de aparcamiento se situará antes de llegar a Beniarrama dónde habrá a disposición de los visitantes un servicio de carruajes que les trasladarán hasta el pueblo.
Ayuntamiento Vall de la Gallinera
Carretera, 35
Tlfn. 966406553 - FAX 966406566
Information compiled by:
TOURIST INFO ALICANTE
Avenida Rambla Méndez Núñez, 41 (Torre de la Generalitat),
03002 Alicante
Phone: 965200000
Fax: 965200243
Email: alicante@touristinfo.net
This office does not assume responsibility for sudden changes or variations of the events published on this site.