World Press Photo, the best photojournalism arrives in Valencia
Publishing date 19/01/2015
Valencia consolidates as host of World Press Photo, the most important photo journalism exhibition worldwide. Following last year's success, with more than seven thousand visitors, the palace of the Valeriola, home of the Chirivella Soriano Foundation will be hosting again the world's best photojournalism exhibition until February 15. A total of 130 images, between single shot photographs and complete photographic reports, that capture the most relevant events of 2013 and pose an invitation to reflection on the social context.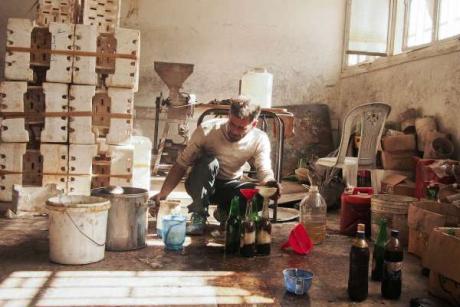 For the third consecutive year, DoctorNopo, together with the Chirivella Soriano Foundation and the support from the Banco Sabadell Foundation and Heineken Spain, brings to Valencia the World Press Photoexhibition, now established as one of the yearly reference events in the city.

The international jury at the 57th edition of the World Press Photo Contest, composed by 18 experts in the field of photojournalism, has selected the image presented by the photographer John Stanmayer of the VII Photo Agency in the United States, as the World Press Photo of the Year 2014. The picture shows a group of African immigrants in Djibouti, standing by the seashore while holding their mobile phones up, so as to capture a low cost telephone network in neighboring Somalia.

5,754 photographers from around the world have participated in this year's edition, with a total of 98,671 images, and from those, 53 photographers from 25 different nationalities have been selected.

Spanish photographers Moisés Samán and Pau Barrena have been awarded the Second Prize in the General News category and Third Prize in the Portraits category respectively. The image of Moisés Samán, who works for the Magnum Agency, shows a fighter from the Syrian rebel forces making a bomb. The atmosphere of the place he is working at, and the rudimentary tools he is using, give an insight that is seldom seen in this kind of armed conflicts. Pau Barrena, a young Catalan photojournalist who began his career in photojournalism with the 15M police charges that took place on May 29, 2011 in Barcelona, has obtained the Third Prize in the Portraits category with a picture that shows a young Berber woman wearing their traditional wedding dress.

Besides being a showcase for the best photojournalism expressions of the moment, the exhibition is thought as an opportunity to ponder on the ways that information is given and received in our society. Photographs, seen as documentary sources and not as mere illustrative elements, represent a window to the world, through which we can see, appreciate and learn, from a critical perspective.

Taking the exhibition as a starting point, Doctornopo builds an Integrated Cultural Project. In the end, the purpose of each edition of World Press Photo in Valencia is to connect the exhibition and its content with the local context and attendance, and to promote a deeper reflection on the Right to Information, taking a different approach to it each year.