The wildest Christmas in the capital of the river Turia
Publishing date 29/12/2014
If you really like nature and Christmas time, you are in luck, because in Valencia you can enjoy both things during the holidays. Bioparc, which is one of the best animal parks in the world, makes it easy with tickets at an affordable price and new activities for all audiences during the Christmas campaign of the wild 15. Come to Valencia and live a wild Christmas in Bioparc enjoying a safari through Africa without even leaving the city. Lions, gorillas, giraffes, buffalos, lemurs, elephants and even crocodiles move freely by the river Turia and offer a breathtaking show.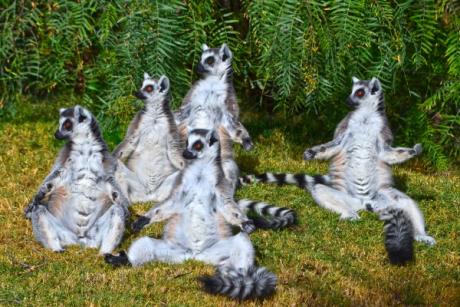 In Bioparc, the visitor goes deeper into the extensive savannah between herds of antelopes, giraffes and rhinos, while lions rule over the prairie from up their rocky throne. You can also dare to enter into the deep equatorial forest in search of gorillas, surrounded by buffalos and leopards, and following the path of the elephants until a cave dug into the rock. Armoured glass, imperceptible vegetation barriers, waterfalls, rivers and high rocks stop true animal jump champions from getting out and running away but allow them to feel free nonetheless. So is Bioparc—also for Christmas.

Therefore, the park has organized a special program with free activities for those visitors coming before the 6th January. The programmed activities consist of two daily exhibitions of El ciclo de la vida (The circle of life), specially adapted to little kids, and Tras el rastro (On the trail), a dynamic activity aimed to kids between 3 and 12 years, where the objective is to find out the identity of an animal depending on the clues given by an educator.

By doing these actvities, Bioparc Valencia wants to keep making people aware of the importance of keeping and protecting the environment. The visit turns then into an educational leisure activity which can also be shared with family and friends.

The best part of it is that, until the 6th January, you can live this experience for only 15 Euros the ticket, an exceptional price so everybody can enjoy one of the best animal parks in the world.

It is an excellent opportunity to share this experience with the family or to see the wildest nature of the African continent during the holidays. A perfect Christmas plan for both kids and adults, as it offers the chance of meeting a large number of animal species, from the most unknown and rarest until the most endangered.