This weekend, Valencia will be running by night and as a herd
Publishing date 2/06/2014
Valencia will be hosting two races this weekend in which six thousand runners will participate. One of them is the 15k Nocturnal Valencia, and the other is the 5k Herd Race in Mislata Bioparc. Come and run in Valencia, you're bound to have fun both by day and by night.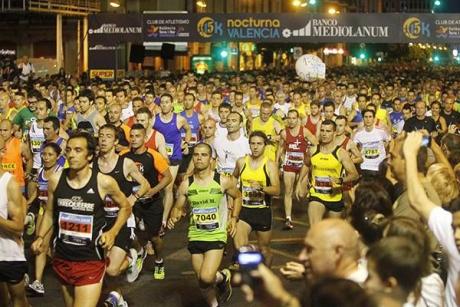 After the organisational and participation success of 2013, the 15k Nocturnal Valencia Banco Mediolanum race has provided details for a second race which will be even more spectacular. This year, the event organised by the Valencia Terra i Mar Athletics Club will be held on Saturday June 7 at 22:00 hours, taking Valencia by night and providing a racing experience that is unmatched among athletic events.
For this second edition, the path of the race has been optimised, offering a flatter, more central path that corresponds to the main demands from the runners who participated last year. The main changes in the race are not to go through the inside of the Juan Carlos I Royal Marina in the last kilometres, as well as to pass by the L'Assut d'Or bridge instead of descending towards the City of Arts and Sciences.
With these changes, the race benefits from passing through wide avenues and, as a new feature, it will reach the Nou Pont de Fusta, offering a spectacular view of the Serranos Towers lit under the moon of Valencia.
The race will begin at Avenida del Puerto, the starting point towards the more central areas of Valencia. Meanwhile, the clock tower in the Valencia harbour will welcome the runners to their great ending, located at the height of Dock number 2.
On the other hand, the race management has decided to certify the circuit through the RFEA and to include it in the local calendar, in order to provide official validity to the personal marks obtained and to make it a sports event of reference in its quest to provide a quality race that is up to the expectations of runners.
And there's more! On June 8, the second edition of the 5k Herd race, a fun and recreational race for all audiences, and especially families, will be held. This is a charitable race meant to raise consciousness on the benefits of a healthy lifestyle and the need to protect and preserve nature. The benefits will be given to animal preservation programs through the Bioparc Foundation and the AHUIM (Mislata International Humanitarian Association) association.
The race will start at 9:00 AM at the Canaleta de Mislata park, and will end on the access square to Bioparc. The race is 5K long, going through natural areas such as the Canaleta de Mislata park, the Cabecera de Valencia park and the internal walkways of Bioparc Valencia, next to the areas that recreate the African savannah and the island of Madagascar. Furthermore, keeping in mind the family nature of this race and taking the needs of children into account, a shorter, 2K circuit has also been prepared.