The "Volta a Peu" de Valencia is here, let's all get running
Publishing date 11/05/2015
The most popular race in Valencia is undoubtedly the famous "Volta a Peu". Every year, and this is its 33rd edition, this test brings together thousands of participants looking forward to practice sports and have fun. On Sunday, May 17, the streets of the city shall be full of runners willing to spend a festive and sporty day with their families. The race begins at 10:00 am in the "Paseo de la Alameda", where it finishes back after a journey of eight kilometers. Come to Valencia and enjoy running!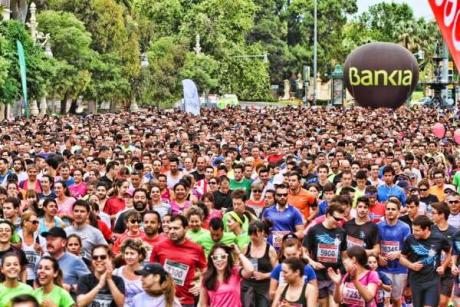 This race, eight-kilometer long, goes through the main streets of the city center, such as the avenues of Puerto, Jacinto Benavente, Gran Vía Marqués del Turia or the Paseo de la Pechina.

The main objective of the "Volta a Peu" race is not the competition in itself, but a celebration of an athletic and casual festivity, full of comfort and fun. So, it is the ideal race to run together with the family.

Male and female race records are hold by Ouais Zitane, with 23'31", obtained in 2014 and Isabel Checa, who managed to set the stopwatch at 28'40" in 2006. In the 2014 edition, the winners were Ouais Zitane with 23'31" and Maria Jose Casinos, who made a time of 31'51''.