Verdi and Puccini are at the heart of the Festival del Mediterrani in Valencia
Publishing date 9/06/2014
The Palau de les Arts Reina Sofía alberga will host the seventh edition of the Festival del Mediterrani, the musical event presided by Zubin Mehta and which offers a varied artistic offer with the operas La forza del destino by Verdi and Turandot by Puccini as the central pieces in a programme organised around the subject of Destins, until June 28.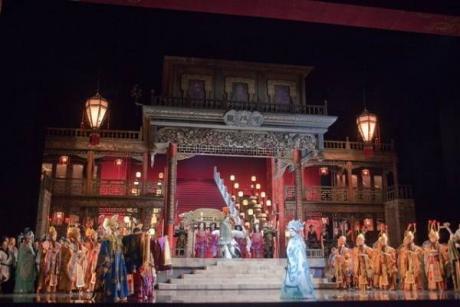 On May 31, the Salla Principal hosted the premiere of the new production by the Palau de les Arts, La forza del destino, by Verdi, conducted by Zubin Mehta. Turinese Davide Livermore is the author of the stage play of this opera, which has an all-star cast led by American tenor Gregory Kunde (as Don Alvaro) and Ukrainian soprano Liudmila Monastirska (as Leonora).
Italian baritone Simone Piazzola (as Don Carlo di Vargas), Danish bass Stephen Milling (as Padre Guardiano), Russian mezzo-soprano Ekaterina Semenchuk (as Preziosilla) and South Korean bass In-Sung Sim (as Marchese di Calatrava) complete the cast of La forza del destino, by Verdi, which will also be performed on June 10 and 14.
Turandot, by Puccini, is the second work directed by Zubin Mehta at the VII Festival del Mediterrani. The Palau de les Arts will be running his successful production with Chinese film director Chen Kaige on June 11. Lise Lindstrom, the acclaimed American soprano, will play the cruel princess Turandot. She will be supported by the tenor from Tenerife, Jorge de León (as Calaf), Italian soprano Jessica Nucio (as Liù) and Ucranian bass Alezander Tsymbalyuk (as Timur).
The Valencian cultural enclave will host more performances of Turandot, by Puccini, on June 13 and 15.
Bombay-born director Zubin Mehta will also be conducting the Orchestra of the Valencia Region in a monographic Richard Strauss concert held on the 150th anniversary of his birth, with the works Also sprach Zarathustra, the suite from Der Rosenkavalier and Vier letzte Lieder, with soprano Dorothea Röschmann as the leading soloist.