Valencia, senyera and love
Publishing date 7/10/2013
Two of Valencia's traditional festivities share the same date of 9 October. One celebrates peace and the other love. The first is the commemoration of the day when King Jaume I entered the city in 1238 to liberate it from Muslim domination, and the second is the festival of Sant Donís, patron saint of Valencia's lovers, known locally as the mocadorà. And if that wasn't enough, there's more to come, with a firework display in the Turia river bed park. How about that?!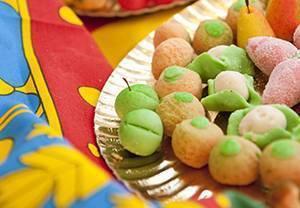 As soon as October starts, the shop windows of Valencia's bakeries and cake shops are a dazzling display of colourful marzipan versions of the region's locally grown fruit, plus a variety of pretty handkerchiefs or mocadors. Sant Donís, bishop of Athens, is the patron saint of lovers here in Valencia. So, if you're in Valencia and you're in love, you know what to do -go get your fruit and mocador.
Official events include handing down the Valencia flag (known as the senyera) from the main balcony of the City Council building, from where it is carried in civic procession to the cathedral. Following a Te Deum mass, the procession continues on to the Parterre, where a floral wreath is laid at the statue of King Jaume I. To mark the occasion, an international fireworks competition is held on the night of 8 October in the Turia river bed park, between the bridges of Puente de Aragón and Pasarela de la Exposición.