Valencia, rules beach sports
Publishing date 22/06/2016
The Taronja Festival organizes on the 1st, 2nd and 3rd of July, athletics, basketball, dance, martial arts, rugby and swimming.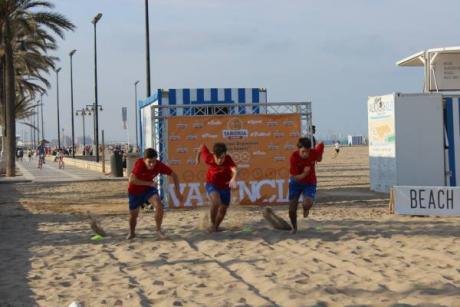 Malvarrosa Beach in Valencia will host during the weekend of 1st, 2nd and 3rd of July, the first edition of the Taronja Festival, which is said that will become the largest beach sports event in Europe. Sun, sea sports and plenty of atmosphere at a festival where all audiences are welcomed and where you can enjoy the beach in a fun way.

The Taronja Festival, having more than 25 sports, will allow you to practice your favourite sport as well as discover disciplines you never knew that may seduce you completely. Athletics, basketball, dance, martial arts, rugby, swimming, 'frisbee', yoga, Pilates, capoeira and many activities will both delight the viewer as participant. Hundreds of fans and athletes of international elite gathered at the Taronja Festival in a summer atmosphere, where fun and sport will play on the same team will be given. You going to sign up?

Malvarrosa Beach is perfect to practice sports and to enjoy a great festival like the Taronja Festival. It is one of the most spacious and open urban beaches in Spain, with a very fine sand suitable to face any sport, has an area suitable for bathing of people with disabilities and many other services for bathers. In addition, the long and beautiful promenade that goes along the beach, it's nearly two kilometres long, full of restaurants and cafes that will allow you to enjoy from a very tasty paella to a cocktail. As if that were not enough, this is all near the Cabanyal neighbourhood, full of life and night and day atmosphere, and the Marina Real Juan Carlos I, one of the most special enclaves of Valencia. Are you going to miss it?