Valencia Region shows its values and hospitality by FITUR
Publishing date 15/01/2016
During this week Valencia Region will be showing its most appealing features by the FITUR Tourism International Fair in order to prove itself as one of the best holiday destinations by the Mediterranean sea.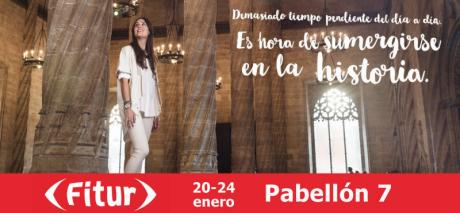 A walk through the stand proves the true hospitality and the real values of Valencia Region, a place with a long experience in the tourism sector and where anyone looking for the sun and the beach, our tasteful gastronomy or our culture and traditions is welcome. Come to Madrid and let yourself be seduced by Valencia Region.

It's the time to enjoy Valencia Region in the capital of Spain. The Valencian stand in FITUR covers an area of over 1.600 meters and includes the tourist destinations of Costa Blanca, Benidorm, València Turisme, Castellón Mediterráneo and Turismo Valencia, all of them under the motto 'Valencia Region, It's time to come back'.

Apart from getting to know more about the different Valencian destinations, in our stand you will have the opportunity of tasting Mediterranean cuisine while enjoying a cooking show, discovering our culture through thousand-year-old routes as the Ruta de la Seda (Silk Route) and also finding out more about our traditions and festivities by many different activities we have already organized for our visitors.

And this year, as a new feature, Valencia Region will be taking part in the FITUR's hall focused on LGBT tourism with its own stand, in order to introduce itself as a gay friendly destination.

Come to see us by the Valencia Region stand in FITUR 2016. You will love it, you will have great fun and you will all be welcome here!

Valencia Region, It's time to come back.