The Valencia Region, epicenter of the Silk Road and culture
Publishing date 2/06/2016
"La Multaqa de las Tres Culturas", "Tercera Setmana" festival of performing and the Festival of the Art, put Valencia on the cultural map.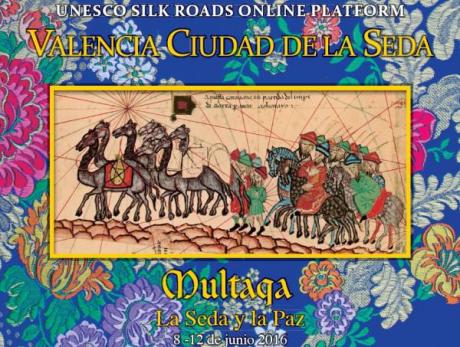 There is no stop when talking about cultural activity in Valencia. Proof of this are the two festivals that will make the cultural pillars of the city tremble during the next weekend and the XII edition of the "Multaqa de las Tres Culturas" and the Day of the Youth Science held on the occasion of the declaration of Valencia as Silkroad City 2016 by Unesco.

The Multaqa is a project of international scope, under the slogan 'Silk and Peace, held from the 8th to 12th of June, in the framework of the 2nd World Meeting of Unesco called 'Silk Road Online Platform'. 'The Multaqa' in Arabic means "friendly meeting". Valencia will become for a few days at the epicenter of cultural dialogue, religious tolerance and peace. Shabbat Prayer, Christian Dominica, the Yumuaa of Islam and Buddhism Nirvana Sutra are ways of feeling and believing that peoples and civilizations share of the Silk Road. The city of Valencia forges this shared history.

On the other hand, the Tercera Setmana Festival is held from the 11th to 19th of June, in its first edition, aiming to become an annual festival of performing arts, an open window to the creation and adventure. While the Festival of the Arts is an event already consolidated in music, art, design, architecture and gastronomy, coming all together during the 10th and 11th of June. During these days, the city will be enticed by culture and brotherhood. And you together with it.

A total of 28 premieres varied performances will take more than thirty venues in the city of Valencia. The "Tercera Setmana" Festival will feature scenic enclosures and less conventional spaces such as city streets. Yes, street theater. So you can feel it close. They are also scheduled performances of the best of contemporary Spanish scene: Galicians Chévere have the National Theater Award and Jose Ramon Fernandez with the National Literature Prize for Drama. The theater festival is here to stay.

The Festival of the Arts was born from the synergy between music and other artistic disciplines such as design, illustration, fashion and gastronomy. The event aims to get involved with the city, make it part of the show promoting their spaces, artists and businesses. If you stir artistic expressions, your time has come. The chosen space is unbeatable: the Ciutat de les Arts and Sciences. There are several scenarios where act bands like The Fratellis, The Dandy Warhols, Hurts or Love of Lesbian will perform.