Valencia, Perdona??? LGTB Village
Publishing date 18/06/2014
Valencia will host its first LGTB Village from June 26 to 29, a first in this city. There will be shops, shows, music, drinks, cocktails, food, culture and gay & gay friendly activities in a unique location in the heart of the city, the Mercado de Tapinería, which will become the heart of the LGTB and LGTB Friendly community.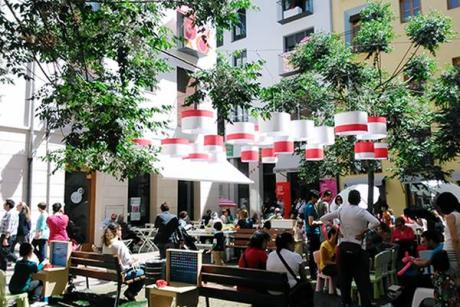 Over the course of four days, the Mercado de Tapinería will become a point of encounter for LGTB Friendly experiences in the city of Valencia, for which there are plans for talks, presentations, leisure activities, an afterwork and two expositions, as well as the attendance of the unique Pelopony, with the goal of making this emblematic space in the city a hotbed of tolerance, consciousness-raising and fun.
Histeria Producciones and Hospitality Valencia, a collective of lesbians, gays, transsexuals and bisexuals, and the EGF, Empresas Gay Friendly Review have produced a rich agenda of public and free activities that will include the animation of the Deseo 54 disco and DJs from The Muse, the most popular and frequently attended LGTB nightlife spaces in Valencia.
A stimulating, fun and cultural agenda to set the best mood.
On Thursday, June 27, at 8:00 PM, the shops and stalls will open so that visitors can obtain detailed information on the programmed activities, schedules, subjects and attendance throughout the four days. This first encounter will include the presentation of the OhMy! Rioja Wine, which, apart from having an exquisite flavour, has an innovative design directed towards the gay and gay friendly public: six distinct characters that project the LGTB universe in comic book fashion. A very chic proposal in the best setting.
The inauguration will also act as a presentation session for the two sessions created exclusively for the event: the Carteles Lambda exposition, a historical narrative of graphic materials of the association for the defence of human rights and respect towards diversity, as well as the "Mauvais Garçons" exposition, commissioned by art critic Lourdes Santamaría, an artistic project that derives its name from the so-called bad boys who transgress social norms through their art and living attitude.
On Friday 27, the events are directed towards the work and entrepreneurship of the LGTB community. During the morning, there will be talks and networking activities between gay and gay friendly companies and professionals, which will end at midday with a Pink Picnic.