Valencia Open 500, match point in the City of Arts and Sciences
Publishing date 13/10/2014
The next edition of the Valencia Open 500 ATP World Tour will have one of the best tables in its history. A total of 32 players will participate in this unique ATP 500 series tournament in Spain taking place in indoor and fast courts. The Valencia Open 500, from October 18th-26th in the main square of the City of the Arts and Sciences, is a tournament at the same level as those held in Washington, Tokyo, Peking, Dubai and Barcelona. Tennis fans are in for a treat!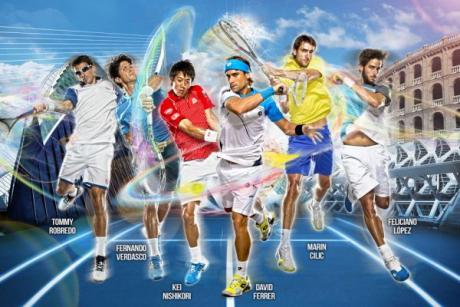 At the top of the list of players is Valencia´s own David Ferrer, who is ranked number 5 globally. Recent US Open finalists Marin Cilic and Kei Nishikori, who are ranked in the Top 10, will also be taking part. The Croatian is currently completing the best season of his career so far, having won his first Grand Slam and taken two more titles in Delray Beach and Zagreb, as well as reaching the finals in Rotterdam. These results have catapulted him to his highest ranking to date (9). The same is happening with the Japanese player, who is making his debut in Valencia with his best-ever ranking (7), after winning in Barcelona, Memphis and Kuala Lumpur, and reaching the finals of the Madrid Masters 1000 and the US Open.
There will be four players from the ten ten in the world and many other in the top 20. John Isner (15), Fabio Fognini (18), Kevin Anderson (19), Alexandr Dolgopolov (23), Philipp Kohlschreiber (24) and Leonardo Mayer (25) are other players that will be competing for the title, and not forgetting those representing the Spanish Armada, such as Roberto Bautista (17), Feliciano López (20), Tommy Robredo (21) and Fernando Verdasco (32). Bautista is the highlight this year´s tournament, after taking his first ATP titles, being proclaimed champion in Stuttgart and Hertogenbosch.
A pleasant surprise of this competition is Tomas Berdych´s inclusion on the list. Being ranked number 6 globally, the Czech lends even more credibility to the tournament tables, confirming it as the best it its history. Berdych has only competed once before in the Valencia Open 500 ATP World Tour, in 2009. It will be the fourth Top 10 of the draw.
The good news is tickets are already on sale at prices to suit all budgets, starting at 10 euros up to 30 for the grand finale.