Valencia offers you many different ways to enjoy the city
Publishing date 20/05/2013
Valencia is a lively, modern city with huge visitor appeal and lots of things to do. Valencia is a byword for entertainment and culture, a hotspot for design, art and music. This week, we suggest you try a couple of activities that you could easily combine with a traditional city tour – a day out at "Festival de las Naciones" and a visit to Bioparc for only 15 euros.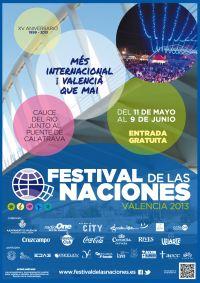 "Festival de las Naciones" (Festival of Nations) will be running up to 9 June, bringing cultures from nations across the world into Valencia. The event is based in the Turia riverbed park Valencia. It's a fantastic place to spend the day having fun and exploring music, food and culture from lots of other countries.
The Festival, held in the area around Valencia's Puente de la Exposición, draws people back year after year for all sorts of reasons. One of them is certainly international gastronomy, with a variety of local food and drink from all five continents for you to try. The event also features displays of traditional dancing and folk music from the countries taking part.
Plus, "Festival de las Naciones" runs children's shows every Sunday. The Festival programme also includes a "university party of the nations" on Thursday 30 May, with DJ sessions and lots of special offers.
The other activity we're suggesting for this weekend is a trip to Bioparc zoo for just 15 euros. Make the most of this chance to see exotic animals with the whole family!
Explore equatorial forest in search of gorillas, chimpanzees and leopards; follow the elephant trail and marvel at hippos, crocodiles and multi-coloured fish; discover the tropical island of Madagascar... Bioparc is one of the best zoo parks in the world, with special displays, children's play areas and loads of different restaurants, making it a great family day out.
More information:
Bioparc Valencia
Tel: 902 250 340