Valencia Marina Real pedaling at alternative music
Publishing date 15/06/2016
The Real Marina Beach Valencia hosts the Festival with a spectacular poster and the largest indoor cycling event in the world and if what you like is to run in families, participating in the Fourth Race in herd Bioparc.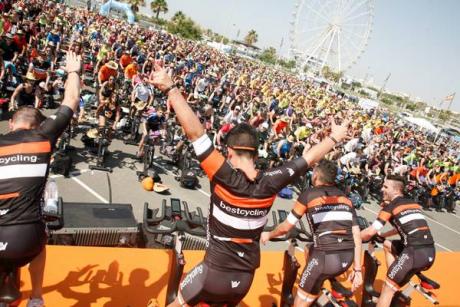 There are signs of festivals that only need to be looked at askance. Valencia Beach Festival 2016 is determined to become a reference and make you spend a memorable weekend with bands like Buzzcocks, James Taylor Quartet, Guadalupe Plata, Alex Cooper or Polar Response Model. Join date on the agenda: 24th, 25th and 26th of June. The site chosen for this great event is the Marina Real Valencia in the outdoor, near sea and with great atmosphere; undoubtedly, one of the most special enclaves of the city.
This alternative music festival was born around the Music Week, cultural proposal and will run from 21st to the 26th of June at the Port of Valencia and which will be launched various activities related to music. All public and all styles will accommodate. The Valencia promoter Mundosenti2, the promoter of the festival, has teamed up with Quiet Music and the result is a musical high. You sign up?
But the pace of the city will not stop during those days. The fronts are many and varied. On Sunday 26th the Fourth Herd Race Bioparc, having five kilometers through the gardens of the old Turia River Park Header and internal vials Bioparc is held, along with the areas that recreate the African savanna and Madagascar.
On the other hand, this same weekend comes the largest indoor cycling event that takes place in the world. And yes, it is in Valencia. It takes place for the seventh consecutive year, and consists of a day of pedaling in the outdoor, with six classes and stops to eat and relax on the beach. Sport and fun in abundance in the enclave of the moment: the Marina Real. So, if your legs won't fail, then you can dance at the party that will be held on Saturday in Umbracle and on Sunday at High Club of the Marina Real.