Valencia on horseback
Publishing date 24/09/2015
Can you imagine enjoying horse trails through the City of Valencia? Thanks to the "Valencia Caballo" event, organized by the Municipal Sports Foundation and Precval, now it is possible. The goal of "Valencia Caballo" is bringing adults and kids closer to the world of horses, and for that reason the organizers have prepared a complete program for this new edition.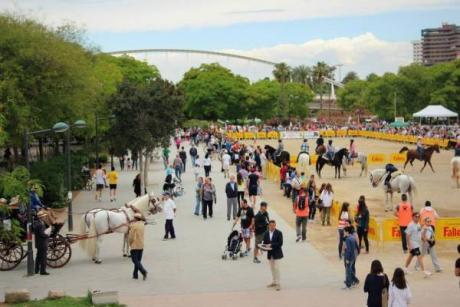 The "Valencia Caballo" event will consist of two parts. On the one hand, the Horse Park, to be located between the Exhibition Bridge and the Bridge of Flowers in the City of Valencia, will be accessible for everyone. Exhibitions will take place all day long, including dressage, horse pulling, harnessing, demonstrations of equestrian therapies, plus informative and commercial stalls and activities for children, such as the equestrian baptisms.

On the other hand, we also find the 4th Equestrian Meeting City of Valencia, where all fans of horse riding in Valencia will enjoy equestrian trails through the old town and the River Turia, guarded by specialized security bodies of the Valencia City Council and Civil Protection, both pedestrians as horsemen.

"Valencia a caballo" is an innovative and conservative event, which tries to go back to the tradition when trade and transhumance cattle walked past the city walls, come and join us!