Try a different way of exploring Valencia and Sagunto with the family
Publishing date 25/06/2013
Don't settle for the typical tour and experiment by exploring history, culture and lifestyles on the dramatized tours offered by Turiart. Don't miss the chance to see Valencia and the surrounding area while making sure the kids have as much fun as you. Tours like "Pirates of the Malvarrosa" on Valencia beach or "A Day with the Romans" in Sagunto, two great options for a fun-packed family weekend.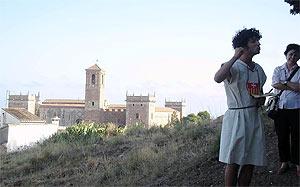 This week we invite you to try a couple of different, fun-filled and exciting ways of exploring different parts of Valencia and Sagunto, guided by intrepid characters who will captivate everyone they come across. A fearless pirate will take you round the port of Valencia, plus you'll discover Sagunto's castle and Roman theatre in a really unusual and entertaining way.
We invite you to register for the dramatized tours organised by Turiart. On Saturday 29 June you can have a great time on the "Piratas de la Malvarrosa" tour.
From the dockyards to the beach, intrepid buccaneers will be following Blackbeard the pirate in search of treasure, while they have lots of fun with all kinds of games and challenges he'll be setting for them. Bring your pirate bandanna and get involved in the adventure. The treasure hunt starts at the main entrance to the Dockyard museum (Avenida del Puerto) and ends at Malvarrosa beach (in the park by Hotel Neptuno).
And the plan for Sunday 30 June is to have yet more fun at "Un día de Romanos" in Sagunto. On this tour, a Roman guide will take you round the most important monuments and remains in this ancient town. You'll find out about Roman culture and history in places like the Vía del Pórtico, see what Roman houses were like and venturing into amazing sites like the Roman Theatre and the Castle. Plus, if you come dressed as a Roman, you'll get a prize!
Book your place on-line at www.turiart.com or call 963 520 772  -  657 047 739
More information
Tour "Piratas de la Malvarrosa en Valencia"
Tour "Un día de Romanos en Sagunto"