Truenorayo Fest in Valencia
Publishing date 21/09/2017
Valencian emergent bands, national and international will gather in Truenorayo Fest in Valencia. On 29th and 30th September, the Naves will be the stage for the underground music and the self-publishing audio. Do you want to join in?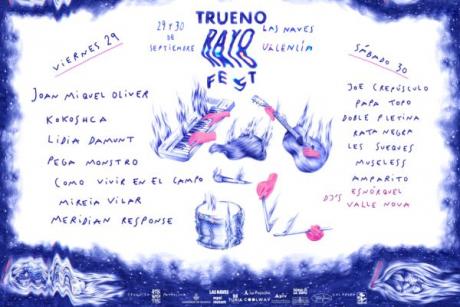 Truenorayo Fest will celebrate this fourth edition in The Naves, after having turned into one of the revelations in the panorama of festivals in the country and having summed some nominations in the Fest Prizes.
This festival does of the "do it yourself" his flag and bet firmly by the music and the national illustration with special attention to groups more or less linked with the underground scene and the independent music with a strong presence of women on stage.

Between these activities, we can also point out the talks/debates on the musical actuality and the presence or absence of women in them. It is a Community experiment in which the really important part are the bands and professionals who are part of it, implying a meeting where boosting creativity.

A great plan for a weekend full of cultural activities. From Valencian emergent bands to national and international bands of first level, all of them will conform the programme. Among the confirmed assisting names: Kokoshca, CVEEC, Les sueques, Lidia Damunt, Museless, Doble pletina, Rata Negra, Joan Miquel Oliver, Papa Topo and Amparito.

Look for your moment of relax in Valencia to compensate. We recommend that you approach to The Cabanyal, a real neighbourhood and with a very special charm. You will love the gastronomy, the colours and the life in the streets.