Triana and Sagira, the baby spoiled giraffes of Bioparc
It's time to meet Triana and Sagira, two baby giraffes bottle-fed by the caregivers of Bioparc Valencia. These Baringo giraffes roam free under the watchful eye of their aunt Che in a quiet area of the park.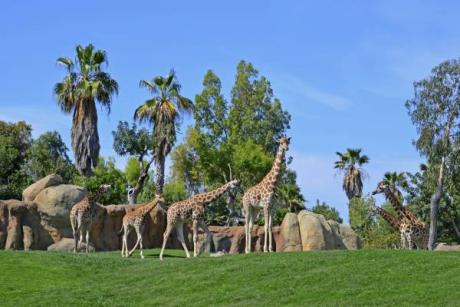 Thesetwo lovely Baringo giraffes are at greatest risk of extinction in the wild and their caregivers are still hand-feeding them, as the success of their breeding is crucial for the survival of the species.

Triana, three months old, and its "sister" Sagira, two month old, have become the favorite pets of Bioparc Valencia team. There were days of hard intense work, a lot of patience and care. There is still a lot to be done, as they will continue will the feed rate of five giant feeding-bottles per day.

Now visitors can already see them closely with their aunt Che in a bounded area where they live more comfortable.

The original nameswere chosen by caregivers and thus Triana follows the Andalusian traditions of its mother Bulería. The playful and lively nature of the younger giraffe, encourage naming it Sagira, that in Egyptian means "small".
Its father is Julius, the stunning six meter high male, which is in charge of the largest tower of giraffes in Spain, with a total of eight species, enjoying green meadow of the Savanna Bioparc Valencia.

These earlydepartures of small giraffes have caught the eye of the herd, which from time to time come to see them. In addition, they also surprised the other animals that inhabit in this area of Bioparc, since it is a complex multi-species where different types of antelope such as impalas, Thomson's gazelles, BlesboksandKobosandstrikingbirds likethe AfricanJabiru, thegrey crowned cranes andAfrican sacredIbis.

BioparcValencia has become the most important center of breeding of the subspecies Rothschild or Baringo (Giraffa camelopardalis rothschildi). In the wild they are seriously endangered species, with a population that continues to decrease each year. Its original habitat is northern Uganda and southern Sudan and their life expectancy is ten to fifteen years in the wild and more than twenty in captivity.

Come to Bioparc and meet Triana and Sagira. They are so cute!