The Tomatina in Buñol, a red revolution
Publishing date 25/08/2014
There has been a long wait, one whole year... but once again, the time has come to put on some old sneakers, don your sunglasses and venture forth in a bloodless tomato battle. The ammunition is no less than 120 tons of tomatoes, and the date is set on August 27.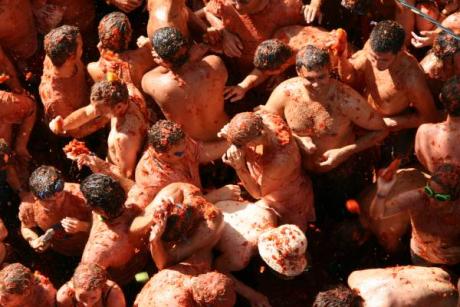 It all began on the last Wednesday of august, 1945, when a few young people where spending time in the town square to watch the parade of giants and bigheads and other festive events. The boys decided to make some room among the committee of a parade with musicians, giants and bigheads, but their impetuousness led them to knock over a participant who, furious, began to hit everything in his way. Through a hazard of fate, there happened to be a vegetable stand there, which fell to the angry mob: people began to throw tomatoes at each other, until the police intervened and put a stop to that vegetable battle.

The next year, the youths repeated the battle voluntarily, and brought tomatoes from their own homes. Even though the police dissolved the recent tradition over the years, the youths had unknowingly made history. The Tomatina was banned during the early 1950s, but this did not discourage its participants, who were even, at times, arrested. But the people spoke and the festivity was allowed once again, accruing even more participants and becoming increasingly frantic.

The festivity was cancelled once again in 1957, when, as a protest, the funeral of the tomato was held: a demonstration in which locals carried a coffin with a large tomato inside. The march was accompanied by a musical band that played funeral marches, and it was a resounding success. Finally, the Tomatina was allowed, and the festivity was officially admitted.

Prepare for a great battle, prepare for the Tomatina in Buñol!