San Pío V turns fashion into art
Publishing date 16/12/2013
Music, painting, dancing… and now, fashion, dreamlike dresses you can see at the San Pío V Museum of Fine Arts in Valencia until February 8. Indeed, in this exposition, San Pío will demonstrate how fashion can also be art, specifically on the eighth.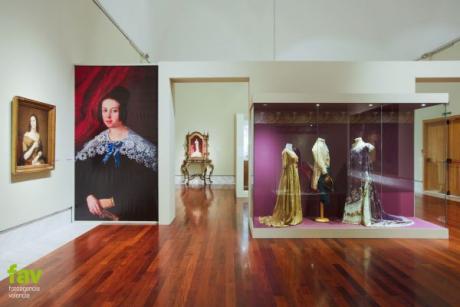 Art and attire from the French Revolution to the Belle Époque is an exposition that broadly retraces the human form from the late Age of the Enlightment to the happy years between both world wars. The exposition reflects the revolution in clothing, especially the changes in the female silhouette, from 18th century corsets to the free imperial style during the first fifteen years of the 19th century, or the return of the corset during Romanticism which practically lasted until the end of the century.
The display follows two parallel universes, the graphic arts and fashion. The former features prominent artists such as Agustín Esteve, Vicente López, Zacarías González Velázquez, Vicente Rodés, José Madrazo, Salvador Martínez Cubells, Antonio Cortina, Ignacio Pinazo Camarlench, Emilio Sala, José Benlliure, Joaquín Sorolla, Cecilio Pla, José Mongrell, José Pinazo or Amadeo Roca. The latter displays works by anonymous creators up until the moment in which creations by Fortuny or Paul Poiret begin to appear.
Mariano Fortuny y Madrazo (1871-1949), the son of the famous painter and a painter himself, invented a type of stamped brocade that imitated 15th and 16th century velvet, which he used to design dresses and theatre attire. He also invented a form of pleated fine silk which he used to create his famous dress, Delphos, which was worn by Isadora Duncan, among others. On the other hand, Paul Poiret (1879 – 1944) freed women from corsets and is held by many to be the Picasso of fashion, above Christian Dior. Other artists include Elsa Schiaparelli, Coco Chanel and Dior himself.
A total of 24 paintings and four sculptures, mainly by Valencian artists, are engaged in a dialogue with over 20 sets of clothing, among which one model by Fortuny, from 1910, stands out in particular. The exposition includes accessories related to fashion, as well as technology and furniture that relate art and apparel. The display was made possible by the collaboration between the Victoria Liceras collection and the Valencia Museum of Fine Arts. Accessories such as fans, parasols, shoes, jewels or hats that could have belonged to the Valencian aristocracy can be seen alongside hints to the birth of photography, cinema or a sewing machine.
www.museobellasartesvalencia.gva.es
http://www.youtube.com/watch?v=M9oe8Pf0vL0&feature=c4-overview-vl&list=PL778B7EEDBEE546B0