The Palace of the Marquis of dos Aguas, a treasure in a museum
Publishing date 9/12/2013
The Palace of the Marquis of Dos Aguas hosts the work and sensibility of two illustrious Valencians: poetry turned into jewels by Vicente Gracia, and the historical treasure of ceramics accumulated and preserved by Manuel González Martí over the course of his lifetime. The exposition is a veritable treasure united by symbolism, which can be visited on the main floor of the palace until January 19.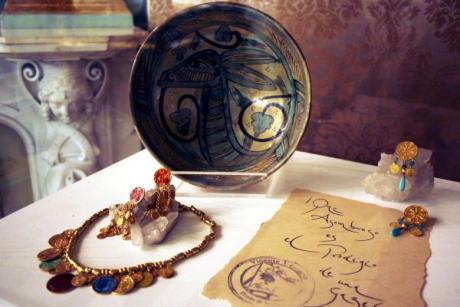 The exposition En Busca del Origen, designed by the prestigious Valencian jeweller Vicente Gracia, delves further into the iconography that came from the East via the Silk Road. It is worth keeping in mind that the relationship between Valencia and the East is a recurrent motif for Gracia.
The exposition is made up by seven series of jewels and seven poems, compiled by García for this occasion, decorating and completing seven masterpieces of Medieval Valencian ceramics, compiled by Manuel González Martí.
The Vogue Gioiello magazine considers Vicente Gracia to be one of the twenty most prestigious jewellers in the world, as well as one of the most representative artists in Spanish design. The exposition, organised by the ArtinGroup collective and the González Martí National Museum of Ceramics and Decorative Arts will be open to the public until January 19 2014.