Not just theatre, it is experiences. The Cabanyal Íntim festival is back
Publishing date 19/05/2017
From the 18th to the 28th of May, do not miss the theatre festival that is not just celebrated in the intimacy of homes but also in open spaces, establishments and shops in El Cabanyal, the most charming mining neighbourhood.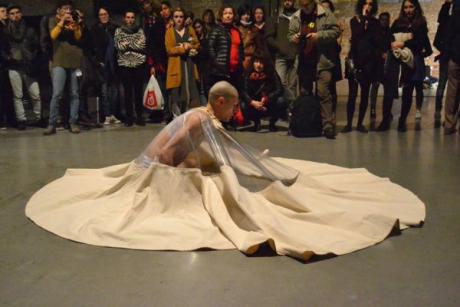 The Cabanyal Íntim Festival will be celebrating its seventh year with 11 world premières and 4 premières in the Region of Valencia. 'Migraciones' (migrations) will be the festival's motto this year. For two weeks, we will be able to enjoy around thirty multidisciplinary proposals for all audiences. They will be laden with reflection and social criticism as well as avant-garde, humorous, poetry, transgression and highly creative proposals. Cabanyal Íntim offers scenic arts and endless possibilities: textual theatre, objects, sensory proposals, contemporary dance and flamenco, dramatised readings, performances, live music, puppets, zarzuela light opera, etc.

Enjoy your visit! Cabanyal neighbourhood, whose core has been declared Cultural Interest Site, has a special idiosyncrasy. Its story and inhabitants, the beauty of its coloured house walls, the long straight streets parallel to the sea or its gastronomy turn this neighbourhood into the perfect place to get away from the madding crowd.

You must visit Grao station, the oldest station still standing in Spain; the Atarazanas, a Gothic shipyard that hosts contemporary art exhibitions, and the Cabanyal's Market, where anybody can see the splendorous fruits, vegetables and fish that can be sampled at the numerous restaurants in the surroundings.