A Nativity Scene in the museum, long live Christmas!
Publishing date 23/12/2013
As every year at Christmas, the National Ceramics Museum of Valencia displays its own Neapolitan Nativity Scene, a 17th century work of art that can be visited in the Palace of the Marquis of Dos Aguas until February 2nd. Long live Christmas!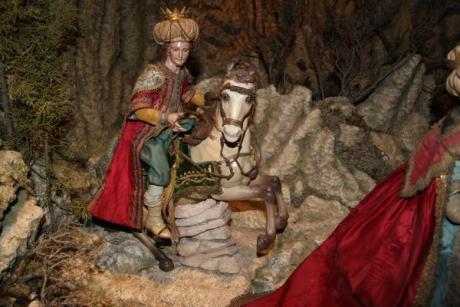 The scene is composed of 29 figures in different sizes in three groups: the Three Wise Men to the left, the Fontana in the centre with characteristic Neapolitan figures, and the Holy Family to the right.
The nativity scene can be visited in the National Museum of Ceramics for free until February 2nd, and guided visits with games and crafts for family audiences are available on weekends with reservations.
The size of the figures varies between 10 to 40 centimetres, and they are crafted from wire covered in cloth, with terracotta heads, carved wooden arms, glass eyes, and dressed in period clothing. The figures have accessories such as ivory castanets or silver incense holders. The clothes were manufactured in the Royal Cloth Manufacture, which was founded by Charles III in San Leucio, near Naples.
http://mnceramica.mcu.es/