The musical Les Misérables comes to Valencia
Publishing date 23/09/2013
Les Misérables will be coming to Valencia in November 2013 when the Palau de les Arts concert hall hosts this musical production currently on tour around Spain. "I dreamed a dream" is the most famous song in the show, which has now been running for more than thirty years.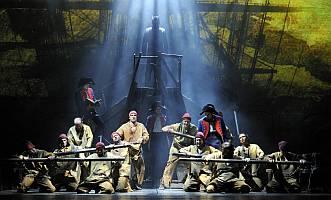 Victor Hugo's work is the first musical to be staged in the Palau de les Arts, a concert hall that would normally be the setting for opera but is now becoming more open to other kinds of musical performance. Les Misérables is using brand new scenery for the new tour, which takes in twenty Spanish towns and is visiting Valencia from 22 November to 22 December. Are you going to miss out?
Les Misérables
schedule
Performances of Les Misérables will vary depending on the day:
From 22 November to 22 December.
Times: 20:00, 20:30, 17:30, 21:30 - times will vary for Monday to Thursday, Fridays and weekends.
Tickets for Les Misérables
Ticket prices for Les Misérables in Valencia range from 55 to 65 euros. Tickets are already on sale at the Palau de les Arts box office or on the official web site for the musical.
Les Misérables isn't the only musical to visit Valencia in 2013; the city has also been the setting for performances of Snow White, Shrek, Pinocchio, Puss in Boots and Aladdin. Come to Valencia and enjoy its musical productions! We hope you'll like them!
More information
www.lesarts.com
902 202 383