Mirador Valencia, a high-standing attraction
Publishing date 3/03/2014
A Ferris wheel, the tallest portable one in Europe, allows you to see Valencia as you have never seen it before. Mirador Valencia (Valencia Lookout) is the new tourist attraction which offers you a panoramic view from a height of 70 metres, 360º around, up to a range of thirty kilometres. Height, views and slow speed all contribute to delight passengers. No excuses! Hop on aboard, have a look, and be amazed.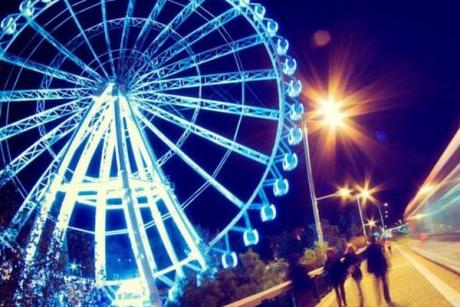 Mirador Valencia, next to the river on Avenida Aragón (Aragón Avenue), is a privileged vantage point from which to contemplate the city and the most important events of the Fallas, especially in the castles and the Nit del Foc (Fire Night).

The Ferris Wheel has 42 cabins with air conditioning, accessible to wheelchairs, with a capacity for up to eight passengers each, allowing it to simultaneously host 336 passengers. The structure turns constantly and at slow speed to offer an unfettered view of the city.

Hop aboard Mirador Valencia and observe Valencia from a height. An impressive and unique experience from the tallest portable ferris wheel in Europe.