La Mostra Viva puts the Mostra Valencia as a meeting of Mediterranean cultures
Publishing date 27/09/2016
The opening of the Mostra del Mediterrani will be on the 7th and the closing on Saturday 15th of October, both at Palau de la Música.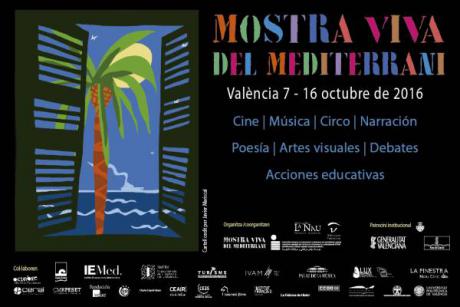 The objective of the Mostra Viva Mediterrani is to turn Valencia into a meeting point of cultures and conflicts around the Mediterranean Sea. Discover other looks and build bridges to understand what unites us and what makes us different. And the best tools to convey this knowledge are movie theatres, literature, visual arts, gastronomy, music, debate, and so on.

The inauguration will take place on the 7th of October at Palau de la Música and the closing will be on Saturday 15th in the same cultural site. Eight thematic areas will be the outline. The Mostra Film Mediterrani in Valencia will offer feature motion pictures and shorts films from the riparian countries. The Trobada De Música del Mediterrani will bring together bands of the north, east and south shores. The Encontre d'Esriptors / Mediterrani is gaining weight in its new headquarters and music unite the voices of poets and storytellers. Meanwhile, the scene Mediterrani returns with circus and story-telling activities.

The Visuals Arts Mediterrani maintains the successful dialogue between the students and teachers of Fine Arts and the sea. The Debats del Mediterrani delve into the various sides of this sea. Gastronomy of Mediterrani inquire into the variety of the Mediterranean diet, and Mostra Education show that art and culture is participatory.