Inspire your holiday with the 'Look out to the Valencia Region' tourist guide
Publishing date 8/06/2015
The tourist guide 'Look out to the Valencia Region' (Asómate a la Comunidad Valenciana, in Spanish) will inspire you in preparing your holiday and allow you to discover suggestive corners and varied activities all through Valencia. Lean out and enjoy a virtual tour through galleries of photos and videos, or fly along the interactive map using the possibilities offered by geo-positioning.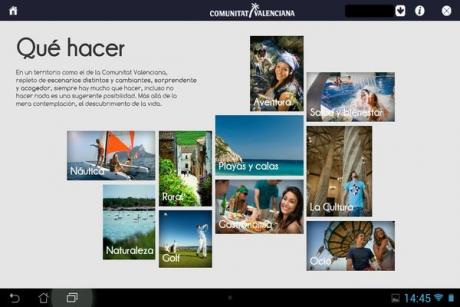 Look out to the Valencia Regionis a complete travel guide for smartphones and tablets which will never miss a proposal when it comes to plan a getaway to the Valencia Region, on what to do, where to go, and how to have fun.

The option "What to do?" provides all content grouped by products such as rural tourism, sailing, culture, leisure, nature, adventure, beaches or health and wellness. The section "Where to go?" shows the information organized by the different tourism brands of Valencia. In "Fun" we can find calendar information divided into the four seasons, where you will find the main festivities, festivals and sporting events that take place every year in the Valencia Region.

In addition, 'Asómate Comunidad Valenciana' also provides geopositioned information through the section "Fly it". For all these reasons, it's a great source of inspiration both for those who have not visited Valencia as well as for tourists who return.

Whatever your ideal trip is, in Valencia there is a proposal waiting for you.
Download Asómate