Holy Week in the Valencia Region
Publishing date 8/04/2014
The Valencia Region celebrates Holy Week with exceptional fervour. A number of events will take place between April 13 and 20 in Elx, Orihuela and Crevillent, three charming cities and three festivities that are of international touristic interest. Alzira and Sagunt also stand out due to the uniqueness of these celebrations.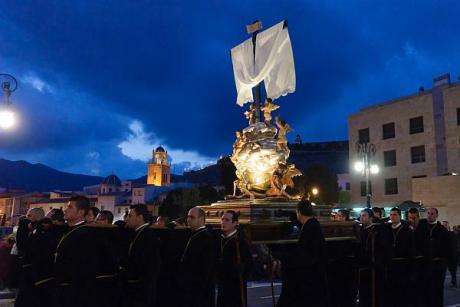 This is the perfect time to discover some of the most traditional festivities in the Valencia Region, as many festivities around Holy Week are held throughout the towns and cities of the region. These days are lived with particular intensity in Elx, Orihuela and Crevillent.
The celebrations around Holy Week begin around April 13, with Palm Sunday, and end eight days later. This unique religious festivity is particularly impressive in Elx due to the thousands of white palms, from the local fields, which you can admire during the procession on Palm Sunday. Don't miss the Palm contest, in which veritable works of art are displayed.
In Orihuela, Holy Week is dated by historians to have begun around the 16th or 17th centuries, with its spectacular Holy Burial, held on April 19, and among whose treasures are the La Diablesa parade, an allegory of the triumph of the cross over the devil and the flesh, featuring a devil with feminine features. Some researchers relate the sculptural ensemble with Masonic symbology. In Crevillent, the most important processions are held on April 15, 16 and 18.
Other festivities, which have also been declared to be of National touristic interest, such as the ones in Sagunt or Valencia, where the Maritime Holy week shines splendidly, are also noteworthy. In Alzira, a number of festivities alternating processions with liturgical acts are experienced with particular intensity.
You can find more information on the many festive acts held during Holy Week in our Events Agenda.