The Hemisfèric celebrates its 15th anniversary with tickets at 5 euros
Publishing date 15/09/2013
Come to the Hemisfèric on Saturdays and Sundays for only 5 euros and be entertained in Spain's biggest digital cinema. Don't miss this opportunity to go inside the city's iconic eye-shaped cinema in the Turia riverbed complex. You have until 16 June, come and explore the magnificent City of Arts and Sciences, the most popular cultural complex in Europe.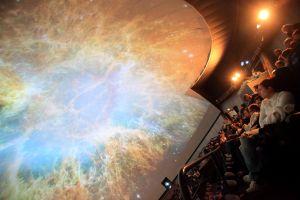 We're talking about the Hemisfèric, the city's amazing eye-shaped cinema building in the Turia riverbed complex, surrounded by water features and a focal point for visitors. Inside is the biggest digital cinema in Spain, where you can let your imagination and your senses run free as you watch large format, IMAX Dome and 3D digital films.
To give you a great day out and to celebrate the 15th anniversary of the Hemisfèric, we invite you to come and enjoy digital cinema with a programme of stargazing and feature films for just 5 euros on Saturdays and Sundays. You have until 16 June.
Don't miss this chance to make the most of the reduced prices in your visitor pack and explore other areas in the City of Arts and Sciences. Special rates are available on combined tickets for the Museum and the Oceanogràfic for 10 euros, or Hemisfèric+Museum+Oceanogràfic for 25 euros. Please note that the latter is available only for online ticket purchases from http://www.cac.es and telephone sales on 902 100031.
Come and have a great time with family and friends in Valencia and the City of Arts and Sciences! It's springtime in Valencia, especially in the Antiguo Cauce del Río Turia riverbed complex.
Online ticket purchases for the Hemisfèric.
CIUDAD DE LAS ARTES Y DE LAS CIENCIAS
AV. PROFESSOR LÓPEZ PIÑERO, 1-7
46013 VALENCIA
Tel: 902.10.00.31 (Information and Bookings)
Web site: http://www.cac.es