The Gira Holi Run 2016 will fill Valencia of color
Publishing date 21/03/2016
This will be the fourth consecutive year!! However this year, there will be five colored bows, in Valencia next Sunday on the 3rd of April, at 9 a.m., at the fairground Puerto, the Holi Run Tour, because more dust is more fun.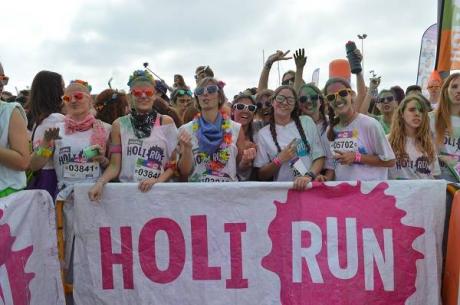 Five kilometers at your own pace, noncompetitive race, that you can do in Valencia, running, walking, jumping or dancing!

Coca Cola together with Holi Run! At the Holi Run many surprises are waiting for you related the brand: red powder, free refreshments... Get ready for what is coming! More bows!

Five colored bows, one more than before, it will be Coca Cola red.

Music and animation, the official DJ of the Holi Run, Daeneris of Holi and the dance team and cheer the party, before and after the race, with the best music for more than 5 hours.

Holi Boom, many more collective bursts of color that fill the air with joy in Valencia. Are you going to miss it?

Dress up! When you come to collect your race number, you can also purchase items to dress up for the Holi race: tutus, wigs, colored sunglasses and many more... enjoy with family and friends, because no matter your status, just feel the most colorful race, that will certainly be one of the most amusing of your life!