Festivities in Valencia: Long live the Geperudeta!
Publishing date 5/05/2014
On the second Sunday of May, Valencia will celebrate the festivity of the Virgen de los Desamparados (Our Lady of the Forsaken). On this day, Valencians commemorate the crowning of their patron saint. A number of entertainment and religious events make up a programme suited to all tastes focused on the figure of the Geperudeta.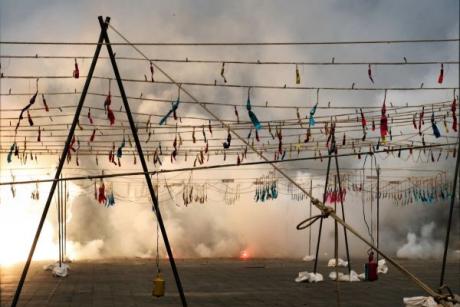 Mascletá (noisy firecracker displays held outdoors), parades, displacements… All in honour of the patron saint of Valencia in a celebration that is bound to impress all, for loyal devotees and visitors alike.
The Virgen de los Desamparados, the Geperudeta (hunchbacked woman) -thus called due to the position of her head, looking downwards-, was canonically crowned in 1923, in the presence of the kings of Spain and a number of ecclesiastical authorities.
This story is continued on every second Sunday of May, even though the official day was May 8. The Missa de Descoberta (Discovery Mass), Missa d'Infants, Displacement and Procession are the most eagerly expected moments for thousands of believers. However, the displacement is undoubtedly the moment in which Valencians express their devotion by yelling "¡Viva la Geperudeta! (long live the Geperudeta)".