Festival Mostra Viva del Mediterrani in Valencia
Publishing date 27/09/2017
From October 5th until October 15th you cannot miss Mostra Viva of the Mediterrani in Valencia. Movies, music, circus, visual arts, writers' meeting, education and much more. Come and discover everything we have waiting for you.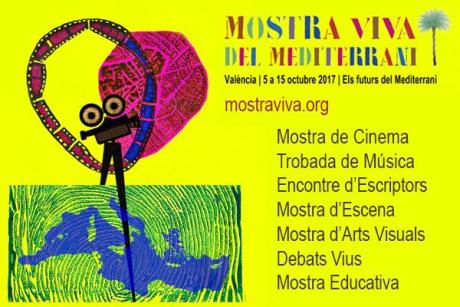 The festival Mostra Viva del Mediterrani works to make of Valencia a space for the dialogue of the Mediterranean cultures. In the fifth edition, Mostra Viva will award a Puente del Mediterráneo to the best full-length film, to the best short, to the best director and to Lucien Castela, promoter of the first Mostres de Cinema of the Mediterrani of Valencia
Valencia, meeting point of the Mediterranean cultures. The globalization impoverishes the cultural income, limiting it to the products of the domineering countries. But there are other creations which surprise for their diversity, modernity and wealth, which respect the values of freedom and equality, which never forget their roots and do not despise new influences.

But the festival is not only limited to movies. In the programme there are activities such as a Meeting of Music of the Mediterranean; workshops, spectacles of circus and of oral narrative in Mostra d'Escena of the Mediterrani; Writers' Meeting; Mostra Jove del Mediterrani; Mostra Educativa which includes Laboratory of Movies; debates; Visual arts and a long list of activities.

Valencia opens once more the windows to the Mediterranean so that the widest cultural diversity can come in. And there are many other proposals. Wander around the multiple theaters, museums and art galleries. And let your emotions flow in the Palau de les Arts. There are many opportunities you cannot miss.