The "Feria de Julio" in Valencia
Publishing date 1/07/2013
A huge variety of styles and audiences will be coming together once again this year in Valencia's Jardines de Viveros park, the setting for the "Feria de Julio" concerts. The 2013 programme features performances by Lori Meyers, La habitación roja, Revolver, Fito y los Fitipaldis, Melendi, Rosario, Fangoria, Sara Baras and many more.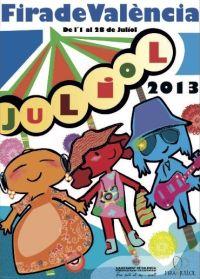 Valencia pays its own special tribute to music in July. From this week onwards, leading artists such as La habitación roja, Revolver, Fito y los Fitipaldis, Melendi, Rosario and the great Sara Baras will be performing in the Jardines de Viveros park as part of the "Feria de Julio 2013" events.
Whether you're already on holiday or waiting impatiently to take your annual break, make sure you highlight the next few weeks on your calendar so you don't miss the full programme of concerts taking place in Valencia.
To whet your appetite, Lori Meyers will be getting things going this year with a concert on 4 July. On Thursday 11 July, the famous Valencia-based group La Habitación Roja will be taking to the stage and on 19 July it's the turn of Fito y los Fitipaldis.
Another fantastic evening's entertainment is guaranteed with Sara Baras, who will be performing her new show La Pepa on 20 July in this beautiful park setting. Revolver, Fangoria and Melendi will be drawing the crowds in this lively venue alongside the river Túria on 5, 12 and 18 July.
The Battle of the Flowers signals the end of this superb cultural event on Sunday 28 July as it makes its way along Paseo de la Alameda.
More information: