Fallas in Valencia, a festival of fire
Publishing date 17/03/2014
It is obvious that Valencia is gearing up for the fallas (a festival that involves burning large combustible sculptures), a festival of fire par excellence and a prelude to springtime, as the preparations stop and city begins to transform.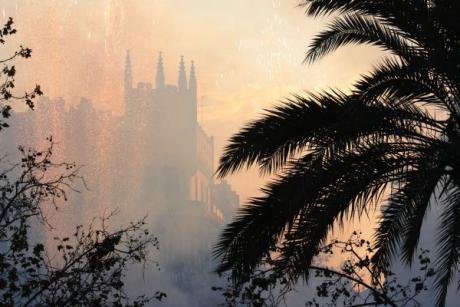 The hubbub, the mascletàs (noisy, outdoor firecracker displays), castles, parades and falleros (people who participate directly in the festivities) take to the streets of a city that pays its yearly homage to Saint Joseph. A key element in this transformation is the fallas, a series of papier mache monuments full of irony satire and sarcasm, which transform the look of a hundred towns and cities in the Valencia Region on the day of plantà (the day on which the abovementioned monuments are erected).

The fallas are the greatest exponent of the traditions and sentiments of a people. That is why Valencians live the fallas, their most international celebration, to the fullest. Throughout these celebrations, a purifying fire engulfs all the evils and negative aspects of the year with the coming of Spring.

These festivities originated in the streets. A long time ago, guildsmen burnt their old rubbish and bits of wood in front of their workshops along with parots, a sort of torch they used to light their workshops during the winter, which eventually became the modern ninots (combustible sculptures or dolls used to compose the fallas). It is precisely the ninots that provide meaning to the fallas thanks to the messages they convey. The night of March 15 is the plantà, the time at which the falleros and artists work to erect the monument for it to be ready on the morning of the 16th.

Castles and fireworks light the sky of Valencia from March 15 onwards. The castles are launched from La Alameda, and they reach their apex on the morning of the 18th, with the Nit del Foc, a pyrotechnic show that is one of a kind.

Falleras and falleros are at the centre of another extremely important event: the offering to the Virgen de los Desamparados (Our Lady of the Helpless). All of the fallas commissions parade from their headquarters to the Plaza de la Virgen, where the impressive garb of the patron saint of the city is made from the flowers brought by the falleras.

However, everything must eventually come to a close, as Valencians very well know. On March 19, the fallas are burnt down, starting with the children's categories, followed by the large ones. The cremà (moment in which the fallas are set fire to and burnt down) begins at ten in the evening with the burning of the small monuments. Two hours later, the flames devour the remaining fallas one by one. The Town Hall falla Is the last one, and this enormous pyre marks the yearly ending of the fallas.