Fallas 2017: ephemeral art becomes eternal following Unesco recognition
Publishing date 6/03/2017
The 2017 Fallas will be more special than ever after obtaining Unesco recognition as an Intangible Cultural Heritage.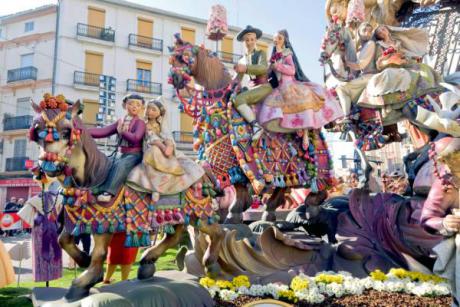 Every March, the streets of Valencia get decked out as the city fills with fire, color, noise and satire. In a few days, the fleeting monuments that depict the uniqueness of Valencia and welcome the arrival of spring will be felt. The Fallas are one of the most internationally known festivals celebrated in the Region of Valencia, and since November 2016, Unesco has deemed them an Intangible Cultural Heritage. This will make the 2017 edition an even more special celebration. Be sure to make the Fallas your only plans from March 15 to March 19.

While the "Fallas" celebrated in the city of Valencia is the most well known festival, experiencing the festivities in some of the towns in the province of Valencia (Cullera, Sagunto, Sueca, Tavernes de La Valldigna, Torrent and Xàtiva) and the province of Castellón (Benicarló and Burriana) is well worth it. The "Fallas" in these towns has a special flavor, and the atmosphere permeating their streets is unique.

Celebrated to honor Saint Joseph, patron of carpenters, the Fallas make the month of March synonymous with "party". These are days of gunpowder during the "mascletà" or the "Nit del Foc" (Night of Fire); of art and social critique embodied in each of Falla monument; and of tradition in massively attended events such as the flower offering to Our Lady of the Forsaken. It's a party that advances inevitably toward being consumed by the flames of the Cremà on the night of March 19. On that night, the magic of everything pagan overwhelms the city in purifying fire.

Valencians have always enjoyed a close relationship with gunpowder and fire. Traditionally, the Saint Joseph festival involved popular bonfires, burning furniture and old belongings. That tradition evolved into the festival as we know it today, where throughout the year "fallero" artists create art filled with satire and social critique. Valencian creativity takes over the city for several days, turning its streets into an incomparable window through which to best appreciate the humor, art, unbridled entertainment, excess and baroque style at the heart of the Valencian character.