Distrito 008, urban festival in Extramuros
Publishing date 13/04/2015
The urban festival Distrito 008 in Extramuros celebrates this week its fifth edition with new proposals for leisure, culture and fun ... Come to Valencia and enjoy unlimited fun, you'll feel great!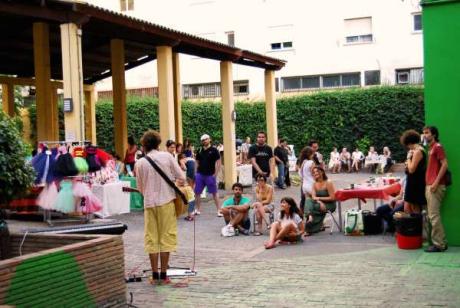 On 16, 17, 18, 19, 24 and 25 April, Extramuros fills the streets with a full program with room for all types of arts: scenic, music, art, film, food, plus several workshops and outdoor events. This city festival in the Extramuros district, Distrito 008, celebrates its fifth Edition changing its date and expanding the programming days, but with the same idea it was born in mind: to revitalize the neighborhood as one of the most important leisure and culture areas in Valencia.

The aim of Distrito 008 is to create a participatory network between different actors such as creators, managers, institutions, employers, traders, associations and neighbors and actively involve the visitors allowing their participation in the activities. It also aims to promote access to culture and leisure in their most evolved version, less politicized, more human and socializing, and at the same time encourage tourism and help the retailers and hospitality industry of the Extramuros neighborhood.

A total of 33 local businesses are involved and among them: El Loco Club, Magazine Club, Sala OFF, Botanic Garden of the University of Valencia, La Edad de Oro, Barreira School of Art and Design, and the Market of Rojas Clemente.

Among the highlights, the program offers the performance of the Eva Bertomeu Company, a sample of medium-length films by La Cabina-medium-length films International Festival of Valencia, Diego R.J. (from the radio program El Sótano of Radio 3) who will deejay in the Magazine Club, a theater workshop run by the Sociedad Coral El Micalet, the performance of Flamenkicidio group or an open and free lindy hop class by Black Bottom. And for the closure, Freedonia will offer a concert, which will mean the official presentation in Valencia of their second LP "Dignity and Freedom" in El Loco on April 25, thus closing the fifth edition of Distrito 008 with a big party.

The festival is co-organized by the collective Distrito 008, Lavisible and the Extramuros Retailers Association (ACOMEX), and has the support of Belmar Fotógrafos and Instrumentos Musicales Torres Music and the sponsorship of Cervezas Tyris and Miss Gin.