Days of rice and wine in Alicante, Castellon and Valencia
Publishing date 7/10/2015
Rice, an ancient and changing crop full of benefits, links scents, tastes and textures with our culture; and it is undoubtedly the main protagonist of Mediterranean cuisine. In order to assess two of the most recognized local products of our territory, such as wine and rice, the second edition of the days of rice and wine of the Valencia Region is taking place now.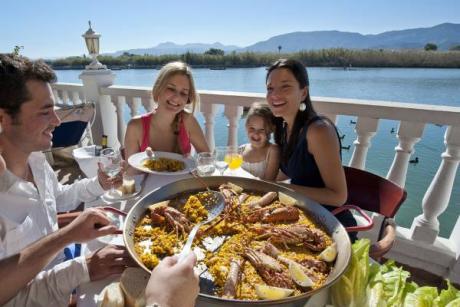 This cereal, cultivated since Moorish times in the wetlands of the Valencia Region, is highly appreciated and used in many dishes. During these days, customers will enjoy a quality dining experience in which own ingredients prevail both in the rice dishes and in the entrees and desserts. Among the proposals of the participating restaurants all kinds of paellas, rice stews, creamy rice dishes, casseroles, baked, "separated", senyoret, fesolsamb naps... can be found. Also, the starters and desserts have a clear native influence on these menus, where you can taste recipes such as coca titaina, esgarraet, tellinas, allipebre, Mareny tomatoes, potatoes in garlic sauce of horchata, fartons pudding with horchata ice cream, pumpkin fritters with chocolate and orange, French toast with sweet wine of Xaló or cremaet of horchata with meringue milk.
As you can read, a variety of traditional and avant-garde recipes will be offered at the participating restaurants in the provinces of Alicante, Castellon and Valencia. Choose the one you like and enjoy the pairing with some of our wines.
Have a nice meal!