Concerts in the Viveros Gardens, a prelude to Fallas of Valencia
Publishing date 2/03/2015
Two days of concerts, on the 6th and 7th of March, are a prelude to the Fallas 2015 festival in Valencia. Come to the Viveros Gardens and listen to the best national music by the All Star Band, a group formed by the most renowned Spanish artists.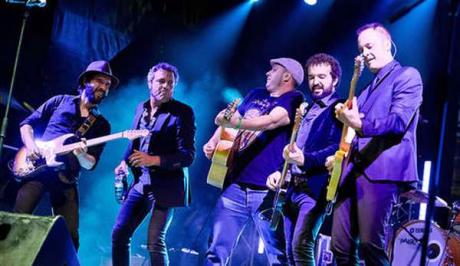 This year, the big news is the performance of the All Star Band, a group created specifically for this event, with national most renowned artists performing songs from their own groups and other rock & roll classics.

On March, the 6th, the All Star Band composed of representatives from Tequila, Tahures Zurdos, Sôber, M-Clan, Baron Rojo, Uzzhuaïa and Obús shall play great hits of their original bands and some classical cover versions of rock history.

On Saturday night, March 7th, the three winners of the contest Sona la Dipu 2014 will open the concert: Flaco Favor, Mr. Keo and We Used to Pray. On that day, M-Clan will be heading the bill to celebrate their 20 years on stage. They will also have special collaborations, such as Alejo Stivel from Tequila.

M-Clan recorded their first album in 1995 and four years later they got famous thanks to the Spanish cover of an old theme by the Steve Miller Band: Serenade from the Stars. The Murcia group counts on the powerful voice of his hairy singer, Carlos Tarque, a classic rock sound and powerful and wild live performances. Songs like Carolina, Souvenir, Maggie despierta (cover of Rod Stewart's famous hit) and Antihéroe placed the band as a model for the national rock. Two years after their album "Defectos personales", they introduced "Sopa fría", which put them back on the national scene. Then comes the compilation "Retrovisión", "Memorias de un espantapájaros" y "Para no ver el final", pure rock with soul arrangements. After their last work, "Arenas movedizas", an album with hints of southern rock, hard seventies rock and rhythm 'n blues, M-Clan celebrated its twentieth anniversary, recording a live album at the Teatro Circo Price in Madrid, which goes on sale now with the name Dos noches en el Price ("Two nights at the Price").

Amstel offers to the people of Valencia thousands of invitations to facilitate rotation of public during the four hours of the Fallas Concert. Do not miss the concerts of Fallas 2015, in the open air and for free.