Clash of the titans on the beach of the Malva-rosa
Publishing date 18/05/2015
The race course in the beach of Malva-rosa, in Valencia, hosts this week the first race of the five planned for the 2015 edition of the 52 Super Series. Twelve ships from nine countries and the best sailors in the world participate. The 52 Super Series is the world's leading real time monohull regatta. The race, named Ford Vignale Valencia Sailing Week, takes place in the waters of the city of Valencia until May 23.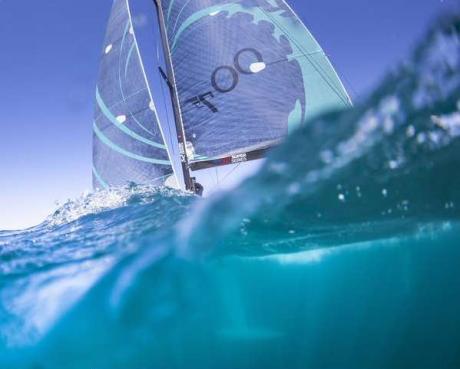 The circuit has been growing since, in 2012, a group of TP52 owners shared the vision of creating an organization for the support and promotion of these boats that stand out as being light, fast and for theirPure Performance.The 52 Super Series race combines two circuits: the season starts in the US and continues with an intense schedule of four races in fine European coasts between May and September.

This year, the new season of the 52 Super Series starts in the city of Valencia. In total, there are nine new generation boats in all their gleaming that will compete in the first of the five races featured in the 2015 calendar. Valencia is the first of the five races of the competition that will continue with two other races in Mallorca, one of them within the scope of ​​the Copa del Rey (the Spanish King's Championship), one in Porto Cervo (Italy), and the ending race that will take place in Cascais (Portugal). This first race of the competition, lasting for five days, has already been held in the city, namely in 2012.
Agustín Zulueta, managing director of competition, said during the presentation of the race that nine of the twelve ships taking part in the regatta were launched this year and, in addition, four of them were built in Valencia. Two have been built in Alginet, and the other two in Burriana, with a cost of two million euro approximately each boat. Zulueta remarked that the shipyards where they have built these four ships are a part of the legacy left by the two editions of the America's Cup held in Valencia.

As the Valencian sailor Nacho Braquehais, one of the participants in the regatta, explained, the TP52 are very fast and undergo constant technical developments. It is expected that tanks to the novelties incorporated in the boats this year, the new races will be spectacular. He also noted that the Valencia race course is always up to scratch.

If you love the sea, come to Valencia and enjoy a spectacular race!
Fotos/Photos:
©
Martinez Studio/52 Super Series