The Carnival arrives to the Ruzafa district in Valencia...
Publishing date 9/02/2015
Carnival has already arrived in Russafa; it's time to get your costume ready and prepare for this multicultural festival, when the streets of this emblematic neighborhood in Valencia get full of color and joy. Angels and demons live together in balconies and windows, and you can hear the first chords of acoustic music concerts that flood every corner and every street. The Carnival comes to Russafa and Valencia is happy to start the feast.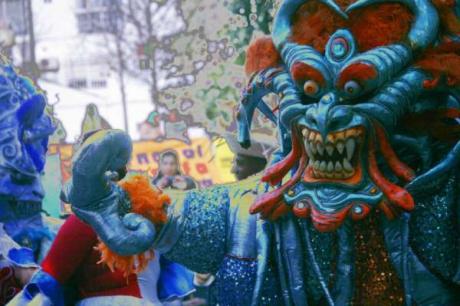 The carnival activities in the neighborhood of Russafa begin on Friday, February 13th, at 7 pm, with the Proclamation of "Russafa a Peu", on the Market of Ruzafa. That day coincides with the opening of the exhibition "A les balconades" (In the balconies), an activity which fills with art and creativity the balconies in the neighborhood.

This year, the acoustic concerts are a new activity which will be performed, on Saturday, February 14th and Friday, February 20th, from the balconies of Russafa, thus integrating music into the neighborhood and Carnival activities.

Thursday, February 19th, is the day ofTeatre al balcó (Theatre in the balcony),a guided tour through the streets of the neighborhood, where you can enjoy theater plays with a focus on social issues and protest, carried out on balconies with art installations.

On February 21st, starting at 1 pm, the Manuel Granero Park hosts the Social Fair: activities, stalls, creative stands, artisans, social groups and shops, as well as musical and artistic performances and children's entertainment!

In the afternoon, at five o'clock it's time for the Grand Carnival Parade, with an itinerary more than four hours long through several streets of Russafa. More than sixty groups from different countries will participate in the event.

With the collaboration of the neighbors, a number of additional activities complement the program. Fifty local entertainment and hospitality businesses, as well as several cultural, social and artistic groups, are also partners in the initiative.